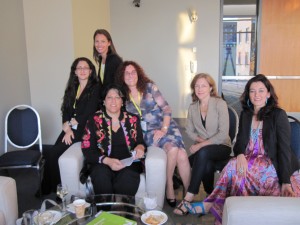 We were privileged to be able to attend the Women Deliver 2010 global conference from June 7th through 9th, reaching out to new partners and communities and sharing the vision of our programs. We participated in a plenary session and mingled with other attendees at our booth representing UCSF Bixby Center for Global and Reproductive Health and the Center of Expertise on Global Women's Health and Empowerment.
During the plenary session our supporter Christy Turlington Burns screened her documentary on maternal health called No Woman, No Cry. Suellen Miller, as part of the technical advisory team to the film, had the honor of introducing the film at the plenary. The film was followed by a lively panel discussion with Christy, Suellen, Nan, Lisa, and Mary that was mediated by Tammy.
At our booth we were excited to interact with a steady flow of interested conference participants. We had a video playing that explained the uses of, how to apply, and the practicality of using the NASG. Also available was an actual NASG for people to examine as we talked with them. Many people with different levels of involvement in maternal health, ranging from midwives to ministers of health, approached us to discuss our projects and data. Many African health care providers were enthusiastic about the need for a device like the NASG in their areas of expertise. This enthusiasm shows how we were able to spread the word of the NASG, bridging the gap between research and saving lives.